MP2300Siec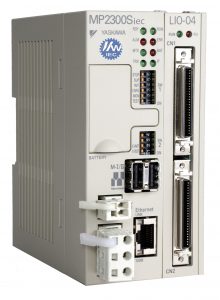 MP2300Siec Up to 16 Axes
The MP2300Siec is a single slot multi-axes controller offering:
IEC61131-3 and PLCopen programming standards
MECHATROLINK-II as the motion network
1 slot for option module
4, 8, or 16 motion axes
MP2300Siec Features
Communication Protocols
Open standards EtherNet/IP and Modbus/TCP for connectivity to many peripheral devices on the market.
Standard Programming Languages
IEC61131-3 means that programs are developed and executed with predictable behavior.
Programmable Amplifier Outputs
The controller can operate local SERVOPACK outputs. This reduces panel cost and space requirements when just a couple of outputs are necessary.
Controller-Centric Commissioning
The MECHATROLINK motion network provides a channel for configuring the machine from a single location with one software tool.
A Multitude of Options
Choose from eight option cards offered for the expansion slot to accommodate most machine requirements.
Remote I/O
Numerous third-party remote I/O modules such as Phoenix, Wago, and Opto 22 can be interfaced with the system via MECHATROLINK and Ethernet.
Web Server
A built in web server offers standard controller diagnostic information eliminating the need for special software for maintenance personnel
MP2300Siec Specifications
Item
Description
Model Number
PMC-U-MP23S04
PMC-U-MP23S04L1
PMC-U-MP23S04L2
PMC-U-MP23S08
PMC-U-MP23S08L1
PMC-U-MP23S08L2
PMC-U-MP23S16
PMC-U-MP23S16L1
PMC-U-MP23S16L2
Supported Modules
LIO-01, LIO-02, LIO-04, LIO-05, LIO-06, AI-01, AO-01, DO-01
Software
MotionWorks IEC Express
MotionWorks IEC Pro
CPU
SH4 (240 Mhz)
Number of option module slots
1
User Variable Memory
1.75 MB
Power Unit
Input Voltage: 24VDC (+/-20%)
Input Current: 1A Max (during input/output rating)
Current Consumption: 1A Max
Battery: Battery for memory retention attachable
Motion Network
MECHATROLINK-II: 1 channel
SERVOPACK and I/O for up to 20 slave nodes connectable
(SERVOPACK for up to 16 axes)
Baud rate: 10 Mbps (MECHATROLINK-II)
Communication Function
Ethernet: 100BASE-TX/10BASE-T
Ethernet Protocols
Ethernet/IP and Modbus TCP/IP comes standard in all units
Calendar
Seconds to year timer
(Battery backup)
Environmental Conditions
Ambient Operating Temperature: 0°C to 55°C
Ambient Storage Temperature: -25° to 85°C
Ambient Operating Humidity: 30% to 95% (with no condensation)
Ambient Storage Humidity: 5% to 95% (with no condensation)
Pollution Level: Pollution level 1 (conforming to JIS B 3501)
Corrosive Gas: There must be no combustible or corrosive gas
Operating Altitude: 2,000 m above sea level or lower
Mechanical Conditions
Vibration Resistance: Conforming to JIS B 3502:

10 to 57 Hz with single amplitude of 0.075 mm
57 to 150 Hz with fixed acceleration of 9.8 m/s2
10 sweeps each in X, Y, and Z directions (sweep time: 1 octave/min.)

Shock Resistance: Conforming to JIS B 3502:
Peak acceleration of 147 m/s2 (15 G) twice for 11 ms each in the X, Y, and Z directions

Electrical Operating Conditions
Noise Resistance: Conforming to EN 61000-6-2, EN 55011 (Group 1, Class A)
Power supply noise (FT noise): 2 Kv min., for one minute
Radiation noise (FT noise): 1 Kv min., for one minute
Installation Requirements
Ground: Ground to 100 Ω max.
Cooling Method: Natural cooling
Connectors
POWER: Power supply connector
M-I/II: MECHATROLINK connector
Ethernet: Ethernet connector
RLY OUT: RLY OUT connector
Indicators
RDY(green), RUN(green), ALM(red), ERR(red), MTX(green), BAT(red), TRX(green), IP(green), LINK(yellow), 100M(green)
Switches
STOP, SUP, INIT, CNFG, MON, TEST, E-INIT, and E-TEST
Dimensions
64 mm × 130 mm × 108 mm (W × H × D)
Mass
390 g
MP2300Siec System Components
Complete your machine controller by adding option modules, accessories, and software development environments listed here.
Download MPiec Hardware Manual (YEA-SIA-IEC-2)
Description
Part Number
Note
MP2310iec Controller Base
(3 option module slots)
PMC-U-MP23104
4 axis, no option module
Mechatrolink II, EtherNet/IP and Modbus/TCP communications
PMC-U-MP23108
8 axis, no option module
PMC-U-MP23116
16 axis, no option module
MotionWorks IEC 2 Express
PDE-U-IE2Sx
x: Number of Software Licenses
A : 1
B : 5
C : 10
D : 20 (only for OPC Server)
MotionWorks IEC 2 Professional
PDE-U-IE2Px
MotionWorks IEC Express
PDE-U-IECSx
MotionWorks IEC Professional
PDE-U-IECPx
MotionWorks IEC OPC Server
PDE-U-OPCPx
Accessories
JEPMC-OP2300
Slot Cover
JEPMC-OP2300S-E
Panel Mounting Bracket (for screw mounting)
JEPMC-OP300
DIN Rail Clips (2 per set)
JZSP-BA01
Replacement Battery
I/O Option Cards
JAPMC-AN2300
Analog Inputs (AI-01)
(8) channels; +/- 10V, 0-10V @ 16-bit resolution and 20kOhm input impedance or 0-20mA @ 15-bit resolution and 250kOhm input impedance
JAPMC-AN2310-E
Analog Outputs (AO-01)
(4) channels; +/- 10V @ 16-bit resolution; 5mA max load current or 0-10V @ 15-bit resolution; 5mA max load current
JAPMC-DO2300
Digital Output Module (DO-01)
(64) 24VDC sinking outputs; 100mA/output
JAPMC-IO2300
Digital I/O Module (LIO-01)
(16) 24VDC sinking or sourcing inputs; (16) 24VDC sinking outputs; 100mA/output; (1) Encoder Counter; A/B/C channels; differential; max frequency 4MHz; 60usec response time for digital input latch and 5usec for C channel latch
JAPMC-IO2301
Digital I/O Module (LIO-02)
(16) 24VDC sinking or sourcing inputs; (16) 24VDC sourcing outputs; 100mA/output; (1) Encoder Counter; A/B/C channels; differential; max frequency 4MHz; 60usec response time for digital input latch and 5usec for C channel latch
JAPMC-IO2303
Digital I/O Module (LIO-04)
(32) 24VDC sinking or sourcing inputs; (32) 24VDC sinking outputs; 100mA/output
JAPMC-IO2304
Digital I/O Module (LIO-05)
(32) 24VDC sinking or sourcing inputs; (32) 24VDC sourcing outputs; 100mA/output
JAPMC-IO2305-E
Digital Multi-Function I/O Module (LIO-06)
(8) 24vdc digital inputs, sink or source; (8) 24 vdc digital outputs, sink or source, 100mA; (1) analog input, +/- 10v, 16-bit, 20kOhm; (1) analog output, +/- 10v, 16-bit, +/- 5mA max load current; (1) Encoder Counter; A/B/C channels; differential; max frequency 4MHz; 60usec response time for digital input latch and 1usec for C channel latch
Option Card Cables (Pigtail)
JEPMC-W6080-xx
(AI-01)
xx: Cable Length
A5: 0.5 M
01: 1.0 M
03: 3.0 m
JEPMC-W6090-xx
(AO-01)
JEPMC-W2061-xx
(LIO-01/02)
JEPMC-W6060-xx
(LIO-04/05)
JEPMC-W2064-xx-E
(LIO-06)
Mechatrolink II Cables
JEPMC-W6003-A5
0.5 m
JEPMC-W6003-01
1.0 m
JEPMC-W6003-03
3.0 m
JEPMC-W6003-05
5.0 m
JEPMC-W6003-10
10.0 m
JEPMC-W6003-20
20.0 m
Network Termination Resistor
JEPMC-W6022
Two (2) required to terminate ends of network (none included with MP2310iec)