Sigma-7Siec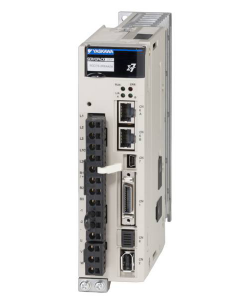 Sigma-7Siec Single-Axis Controller
The Sigma-7Siec offers single axis motion in a compact package:
IEC61131-3 and PLCopen programming standards
Controller and SERVOPACK integrated in one unit
Single axis of motion control
Note: The Sigma-7Siec does not have internal battery backed RAM
Sigma-7Siec Features
Communication Protocols
Open standards EtherNet/IP and Modbus/TCP for connectivity to nearly every HMI and PLC on the market.
Standard Programming Languages
IEC61131-3 means that programs are developed and executed with predictable behavior.
Programmable Amplifier Outputs
The controller can operate local SERVOPACK outputs. This reduces panel cost and space requirements when just a couple of outputs are necessary.
Remote I/O
Numerous third-party remote I/O modules such as Phoenix, Wago, and Opto 22 can be interfaced with the system via MECHATROLINK and Ethernet.
Web Server
A built-in web server offers standard controller diagnostic information eliminating the need for special software for maintenance personnel
Sigma-7Siec Specifications
Item

Specifications

Control Method
IGBT-based PWM control, sine wave current drive
Feedback
With Rotary Servomotor
Serial encoder:
20 bits or 24 bits (incremental encoder/absolute encoder)
22 bits (absolute encoder)With Linear Servomotor
Absolute linear encoder (The signal resolution depends on the absolute linear encoder.)
Incremental linear encoder (The signal resolution depends on the incremental linear encoder or Serial Converter Unit.)
Applicable Standards
Compliance with UL Standards, EU Directives and Other Safety Standards
Applicable Option Modules
Fully-closed Modules and Safety Modules
Note: You cannot use a Fully-closed Module and a Safety Module together
Performance
Speed Control Range:
1:5000 (At the rated torque, the lower limit of the speed control range must not cause the Servomotor to stop.)Coefficient of Speed:
Fluctuation+/- 0.01% of rated speed max. (for a load fluctuation of 0% to 100%)
0% of rated speed max. (for a voltage fluctuation of ±10%)
+/- 0.1% of rated speed max. (for a temperature fluctuation of 25°C ±25°C

)Torque Control Precision:
+/- 1%

Soft Start Time Setting:
0 s to 10 s (Can be set separately for acceleration and deceleration.)

Displays/Indicators
CHARGE, PWR, CN, RUN, ERR, and L/A (A and B) indicators, and one-digit seven-segment display
Environmental Conditions
Surrounding Air Temperature:
-5°C to 55°C (With derating, usage is possible between 55°C and 60°C.)Storage Temperature:
-20° to 85°C

Surrounding Air Humidity:
-95% relative humidity max. (with no freezing or condensation)

Storage Humidity:
95% relative humidity max. (with no freezing or condensation)

Vibration Resistance:
4.9 m/s2

Shock Resistance:
19.6 m/s2

Pollution Degree:
Must be no corrosive or flammable gases.
Must be no exposure to water, oil, or chemicals.
Must be no dust, salts, or iron dust.

Altitude:
1,000 m or less. (With derating, usage is possible between 1,000 m and 2,000 m.)

Analog Monitor (CN5)
Number of points: 2
Output voltage range: ±10 VDC (effective linearity range: ±8 V)
Resolution: 16 bits
Accuracy: ±20 mV (Typ)
Maximum output current: ±10 mA
Settling time (±1%): 1.2 ms (Typ)
Dynamic Brake (DB)
Activated when a servo alarm or overtravel (OT) occurs, or when the power supply to the main circuit or servo is OFF.
Protective Functions
Overcurrent, overvoltage, low voltage, overload, regeneration error , etc.
Sigma-7Siec Models & Ratings
Sigma-7Siec 100V Input
| | Rated Output |
| --- | --- |
| SGD7S-R70FM0A000F50 | 50W |
| SGD7S-R90FM0A000F50 | 100W |
| SGD7S-2R1FM0A000F50 | 200W |
| SGD7S-2R8FM0A000F50 | 400W |
Sigma-7Siec 200V Input
| | Rated Output |
| --- | --- |
| SGD7S-R70AM0A000F50 | 50W |
| SGD7S-R90AM0A000F50 | 100W |
| SGD7S-1R6AM0A000F50 | 200W |
| SGD7S-2R8AM0A000F50 | 400W |
| SGD7S-3R8AM0A000F50 | 500W |
| SGD7S-5R5AM0A000F50 | 750W |
| SGD7S-7R6AM0A000F50 | 1.0kW |
| SGD7S-120AM0A000F50 | 1.5kW |
| SGD7S-180AM0A000F50 | 2.0kW |
| SGD7S-200AM0A000F50 | 3.0kW |
| SGD7S-330AM0A000F50 | 5.0kW |
| SGD7S-470AM0A000F50 | 6.0kW |
| SGD7S-550AM0A000F50 | 7.5kW |
| SGD7S-590AM0A000F50 | 11kW |
| SGD7S-780AM0A000F50 | 15kW |
Sigma-7Siec 200V Input with FT82 Option (Support SGM7D Motors)
| | Rated Output |
| --- | --- |
| SGD7S-R70AM0A000F82 | 50W |
| SGD7S-R90AM0A000F82 | 100W |
| SGD7S-1R6AM0A000F82 | 200W |
| SGD7S-2R8AM0A000F82 | 400W |
| SGD7S-3R8AM0A000F82 | 500W |
| SGD7S-5R5AM0A000F82 | 750W |
| SGD7S-7R6AM0A000F82 | 1.0kW |
| SGD7S-120AM0A000F82 | 1.5kW |
| SGD7S-180AM0A000F82 | 2.0kW |
| SGD7S-200AM0A000F82 | 3.0kW |
| SGD7S-330AM0A000F50 | 5.0kW |
| SGD7S-470AM0A000F82 | 6.0kW |
| SGD7S-550AM0A000F82 | 7.5kW |
| SGD7S-590AM0A000F82 | 11kW |
| SGD7S-780AM0A000F82 | 15kW |
Sigma-7Siec 400V Input
| | Rated Output |
| --- | --- |
| SGD7S-1R9DM0B000F50 | 500W |
| SGD7S-3R5DM0B000F50 | 1.0kW |
| SGD7S-5R4DM0B000F50 | 1.5kW |
| SGD7S-8R4DM0B000F50 | 2.0kW |
| SGD7S-120DM0B000F50 | 3.0kW |
| SGD7S-170DM0B000F50 | 5.0kW |
| SGD7S-210DM0B000F50 | 6.0kW |
| SGD7S-260DM0B000F50 | 7.5kW |
| SGD7S-280DM0B000F50 | 11kW |
| SGD7S-370DM0B000F50 | 15kW |